A rectangle has four right angles. The sides of a rectangle that are opposite each other have the same length.
Now, if a rectangle has the length of
l
and the width of
w
, its perimeter,
P
, will be the total distance around the outside of the rectangle. Hence:
P = 2(l+w)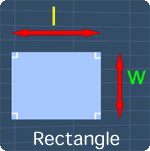 The math video below will give more explanation on this. Also, we will see some examples on how to use this formula.