A trapezoid has four sides where two sides are parallel to each other. The height of the trapezoid is perpendicular to the parallel sides. These are shown on the right.
Now, if a trapezoid has the height
h
and two parallel sides
a
and
b
, the area
A
, of the trapezoid will be: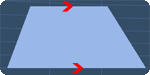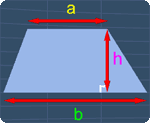 The math video below will give more explanation on this. Also, we will see some examples on how to use this formula.