A parallelogram has two pairs of parallel sides and its opposite sides are equal in length. These properties are shown on the right.
Now, if the parallelogram has sides of length
a
and
b
, the perimeter of the parallelogram,
P
, will be:
P = 2(a+b)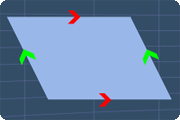 This formula is similar to the formula for the
perimeter of a rectangle
. Rather than repeating the same explanation, the math video below will show some examples on the perimeter of a parallelogram without using the formula.